HARRY RENTS A ROOM (9 minutes, 1999)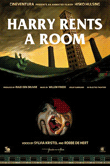 Harry Rents A Room is a hallucinative animated short about a young man that is being terrorised by his landlord.
Harry Rents A Room, was released in the Dutch cinema together with David Cronenberg's Existenz and in the Czech cinema's together with Terry Gilliam's Fear and Loathing in Las Vegas.
Willem Friede composed the soundtrack and the voices were done by Sylvia Kristel (Emanuelle) and Robbe de Hert.